About nDzuti (Tented) Bush Camp?
Ho to get here? | Important Information | Frequently Asked Questions
Pioneers in the Safari Game
Bruce and Judy are pioneers in the safari game having started in the early 1980s in Thornybush Game Reserve and then onto Timbavati where the couple took a two-year sabbatical from tourism and got stuck into some nitty gritty reserve management such as erosion work, burning programs, and managing animal numbers.
In 1988 they were awarded a concession in the then-unknown Manyeleti Game Reserve adjacent to the Orpen Gate of the Kruger National Park. They built and operated Khoka Moya Safari Camp from which they ran a walking safari in 1988 and in 1989 they opened Honeyguide Tented Safari Camp- then, the first luxury tented camp in South Africa. During their 10 years in the Manyeleti Game Reserve, they witnessed the fall of the fences and massive moves towards conservation efforts and themselves formed a volunteer programme for rhino monitoring and conservation.
Transfrontiers Wildlife Walking Safaris their next project was a much-needed product; walking trails in wild areas in the Greater Kruger stretching from Manyeleti in the south to the Limpopo along the border of the National Park and often in community-owned land. With a sense of fortune, they find themselves now in the Maseke Game Reserve a section of the Greater Kruger that has recently been awarded to the Maseke community.
The small team at nDzuti Safari Camp working alongside Bruce and Judy are drawn from all quarters.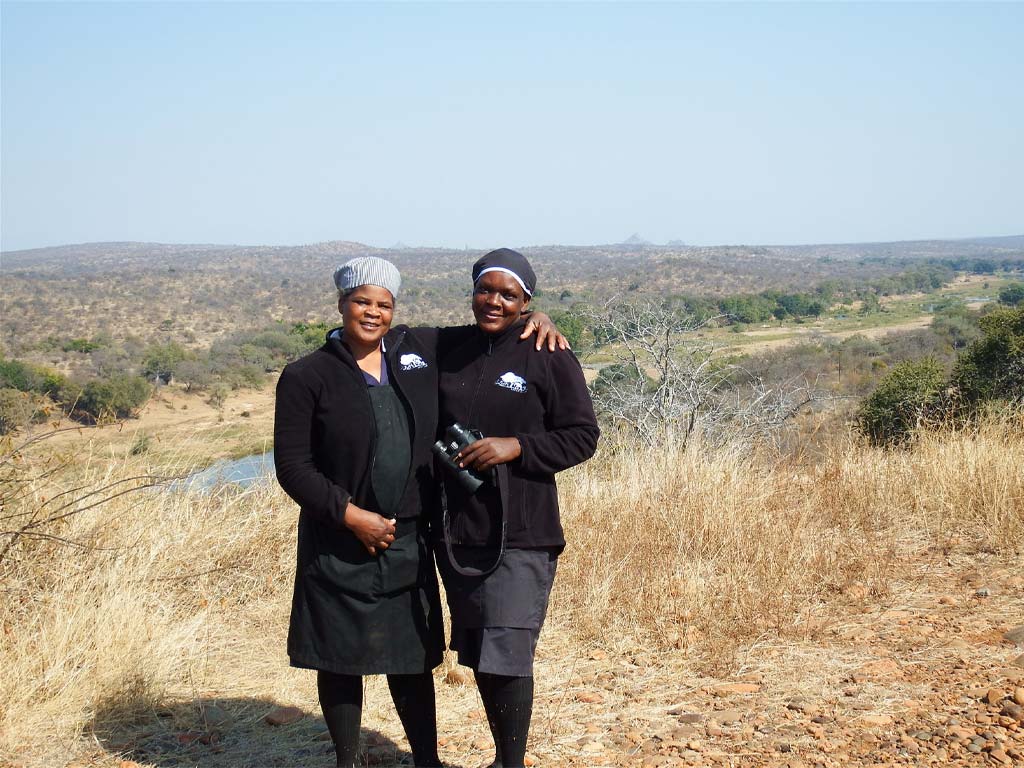 Phindele & Portia - the perfect pair...
Phindele has been cooking at safari camps for many years. We first worked together in 2000 when she braved the wild and went on trail as our cook in Klaserie and Timbavati during those early years! Cooking in a tent in an unfenced camp, often on her own, has built the Phindele we know today; capable, innovative and a good all-rounder, she is an essential part of our team.
Portia also has a history in the kitchen although at nDzuti she is our housekeeper and table attendant. Portia abides with monkeys, squirrels and also elephants that often ruin her hard work in preparing the camp for guests and maintaining it like that.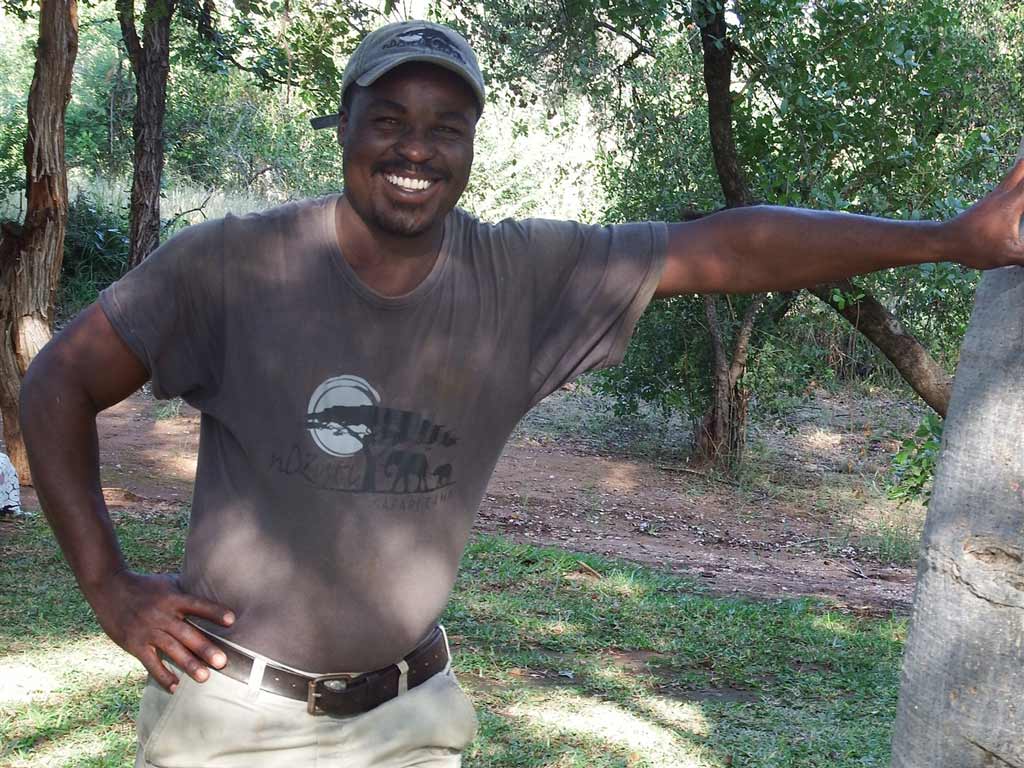 Credwell - always there to help...
Credwell also worked alongside us in the Klaserie years. He is a capable self-taught handyman and a tolerant and persevering gardener in an unfenced camp. He is also interested in accompanying groups on drives and sharing his local knowledge while working on his tracking skills.
Management
Bruce & Judy Meeser!
Owner Operators.
Available 24/7/365
Questions
Ask us now!
Awaiting your questions.
+27 (0)83 382 5097 / 8
Let's Connect
Call Us Today!
Awaiting your call.
+27 (0)83 382 5097 / 8
Facebook
View Our Socials
Instagram
View Our Photos
How to get here…
We are part of the Greater Kruger Park and the Associated Private Nature Reserves on the western side of the National Park. Our gate to Balule is between Hoedspruit and Phalaborwa on the R40.
Our local airport in Hoedspruit is called Eastgate and it has a couple of flights a day out of both Johannesburg and Cape Town. All flights into Eastgate arrive and leave between 11:30 and 14:30 to allow visitors to get to their respective lodges before the afternoon game drive, and to still allow for time for a morning drive on departure day.
We are slightly over an hour from the airport, and we can either fetch you ourselves or arrange for a transfer company to do so.
There is also a shared road shuttle from Johannesburg to this area every day which leaves OR Tambo airport 7 :30 am and we will meet you at the drop off point and transfer you the remaining distance to the bush camp. The road transfer takes 5-6 hours. There is always the option of renting a car and taking a drive to the camp, perhaps stopping of a night along the way and getting in some sightseeing along the Panorama Route.
The other Kruger airport- Kruger Mpumalanga international is a 3-hour drive from us. There is a transfer company doing daily transfers from there.
Important Information – Dressing for Safari…
On safari, most people wear shorts and a T-shirt during the day and put-on long-sleeved shirts and long pants in the evening for warmth as well as protection from mosquitoes. Should you be particularly sensitive to the sun a loose cotton shirt is essential during the day. Khaki, brown, olive and beige colours are best for safaris and game walks.
White is not a suitable colour for these activities, as it increases your visibility to wildlife you want to get a closer look at and it will get dirty very quickly.
Wear a fleece or sweater and a windbreaker for game drives, because it is highly possible that you may go out on a hot day, but be faced with a chill evening on your return. Remember that layering your clothing will keep you warmer than relying on one thick item.
If you take prescription medication, be sure to bring a sufficient supply with you. If you are on a lengthy holiday, we suggest that you carry a copy of your prescription with you.
On Safari you can experience very hot days and cold nights so we recommend that you take the following:
Fleece/sweater
A vest or singlet to wear under your shirt.
Khaki, brown or beige colours are recommended to wear during a game drive/walk because white and bright increase your visibility to the animals.
Long trousers.
Shorts/skirts and t-shirts for during the day
Comfortable walking shoes
Sandals for wearing in camp
Wide brimmed hat
Windbreaker
Also bring along:
Sun block & lip balm
Sunglasses
Binoculars
Camera with a zoom/wide angle lens + plenty of camera film, spare memory sticks for digital cameras and spare batteries for video cam.
Frequently Asked Questions
Questions & Answers
Yes, we have all of the iconic animals that have become known as the BIG 5 as well as many other animals well worth seeing. The BIG FIVE was originally a hunting concept from the days when hunters were drawn to Africa to shoot the five most dangerous animals on the continent.
Thankfully much has changed, nowadays, visitors to Africa get to see and appreciate far more than the BIG FIVE. However, these animals are indeed exciting and awe-inspiring to view, at nDzuti we are fortunate to be in a good position to possibly track and find Elephant, Rhino, Lion, Buffalo and Leopard on our concession in Maske, Balule Nature Reserve.
Is it safe to stay in an unfenced camp?
There is always a risk when staying in the African bush where wild animals roam free. During the day, there is normally a ranger or nDzuti staff member around that will advise you what to do if an elephant or other animals should stray too close. It is important not to approach any animals unless in the company of a ranger. At night, if there are animals around, a ranger will walk you to your tent, then you should stay there, except to use the attached bathroom.
How many nights should we stay at nDzuti?
We understand that time and budget restraints are real issues when planning your safari. nDzuti Bush camp is situated in a large unfenced area- an amalgamation of various private and national parks-where animals can move and meet their needs for food, water, territories and for mates. Some animals, such as lions, are territorial and move within their home range, which could include sections of this reserve and others. Animals such as elephants and giraffes don't have a set home range and may wander far and wide, sometimes even into neighbouring countries. To give us ample time to try to track and locate the wildlife you hope to see, a three-night stay should be ample. Two nights is a little short but if that's all you have, it will still be worth it.
What is the best time of the year to come on safari?
Many guests are advised that our winter months and the dry season is the best time for a safari. The vegetation is not as thick, so visibility is better. Water is scarce hence the waterholes are busy and, of course, there are fewer insects. All of this is true, our winter months from May to September is a comfortable time in the bush and the game viewing is easy. The Summer months have the added attraction of the many migrant birds arriving from Europe and elsewhere, and it's the lambing season for impala, our most common antelope. Wildebeest calves are also born around Christmas time, as are many other young. The raptors or birds of prey that flock to our southern skies, to follow the food flush in summer, are very exciting, even for novice birders.